WELCOME TO THE 


Dragon Ball Z follows the adventures of the protagonist Goku who, along with his companions, defends the Earth against an assortment of villains ranging from intergalactic space fighters and conquerors, unnaturally powerful androids and nearly indestructible creatures.
While the original Dragon Ball anime followed Goku from his childhood into adulthood, Dragon Ball Z is a continuation of his adult life, but at the same time parallels the maturation of his sons, Gohan and Goten, as well as the evolution of his rivals Piccolo and Vegeta from enemies into allies.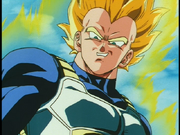 Vegeta (ベジータ), or Prince Vegeta, is the prince of the fallen Saiyan race and arch-rival to Goku. He is the eldest son of King Vegeta, the husband of Bulma, the father of Trunks and Bulla, and the great-great grandfather of Vegeta Jr. Alongside Goku, Gohan, and Piccolo, he is easily one of the most prominent characters in the series, receiving more character development after being introduced than a number of other characters.
Loading RSS data...